Game Essentials:
Time To Escape: 1 hour
Number of Players: 1-6
Suitable for Single Player: Yes
Gamemaster: Optional / Not Required
Tower of London
You are a group of jewel thieves who are aiming to steal the crown jewels.
However, disaster strikes as one of you trips an alarm and the place goes into lockdown.
Now you have just sixty minutes to escape before the police arrive in the tower.
Can you crack the codes to disable the alarm and escape before the police arrive?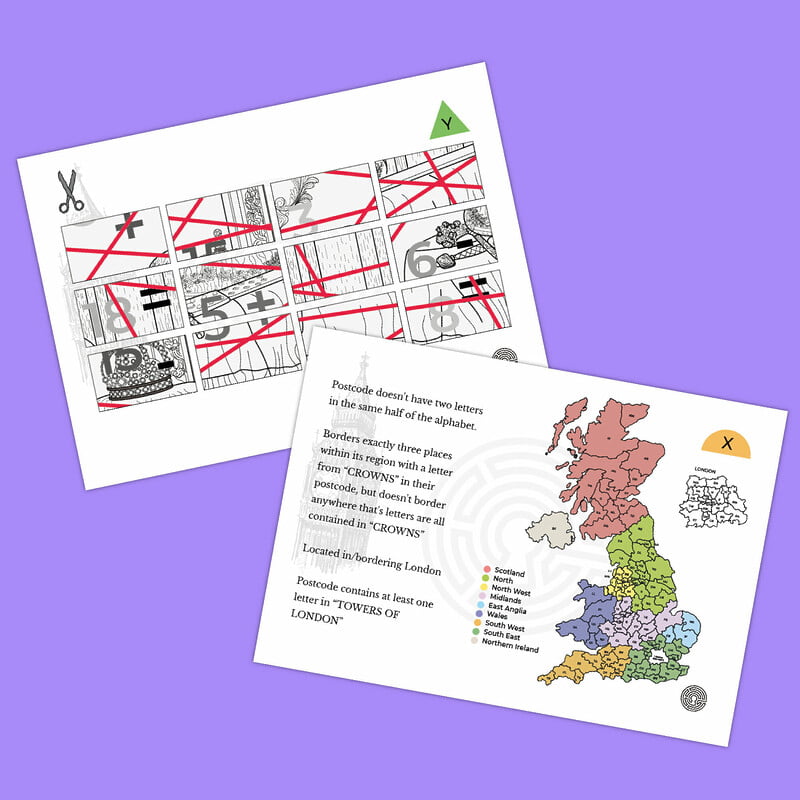 How Printable Escape Rooms Work – What's Included
A printable escape room that you can download and print on your home (or office) printer – in colour or black & white!
Immediately after purchase, you'll automatically receive an email with links to download the PDF files to print.
There are three files:
Instructions & Puzzles (11 pages – 2.5MB)
Hints (7 pages – 0.7MB)
Solutions (8 pages – 0.7MB)
This printable escape room is designed to look great when printed on both a colour printer and on a black & white printer.
Either, you can play this game without a gamemaster – just print the pages and start playing – or you can play with a gamemaster – they print and hide the pages around a room and give you the hints when requested!
Remember, if you're not 100% satisfied with your purchase, you're covered by our 100 day money-back guarantee!

Frustrating
We found all the details we were meant to but had no idea what to do with them without the hints. There wasn't enough of a narrative to take us through the game.
We've never played an escape room game like this, so we weren't on the wave length.
Not clear
Wasn't difficult but wasn't clear in what you needed to do and in which order
Top notch
Great idea and thoroughly enjoyable. 5 of us did it, me; wife; 2 daughters and granddaughter and we all really enjoyed it. Needed a bit of help so used some of the clues but done it in just over the hour. Really gets the grey matter going. Shall be getting the elf one next !! 100% recommend this.
Great game
Very interesting and fun game. Was a bit hard to figure it out, took us more than an hour. We did it with my kids, 9 and 8 years old. They were very excited about solving it.
Murderous scallywag
This was the first time we had attempted any type of escape room.
We struggled initially but gradually got better and managed to solve it although in just over an hour.
It was a fun experience and we would buy again.