Escape rooms are awesome and more and more people have grown increasingly familiar with them over time.
You'd have to admit that escape rooms are pretty new, only really arriving in full force around the early 2000s.
What started as just a handful of escape rooms designed for hardcore players and dedicated fans (many of whom had played escape rooms video games, like Myst), has now become an international success.
Escape rooms now exist all around the world and some, like Canada's huge 4-story Diefenbunker, are incredibly famous.
Escape rooms provide a new form of entertainment entirely unique from your standard bowling alleys, cinemas, go-karting, paintballing or whatever else!
But, there is a new development in the escape room world!
A New Development in Escape Rooms
As it stands, we are all spending more time at home. The coronavirus pandemic has kept us in our homes, toying with our own devices, twiddling our thumbs, occupying the kids, keeping them and ourselves entertained.
Of course, this is not an entirely new dilemma. Endless rainy days, school holidays, snow days, there are plenty of occasions where we're sat at home searching for something new to switch up the monotony.
If only you could escape from it all…
Fear not, the escape-room-at-home offers hope!
It's a new development in escape rooming that brings the fun, excitement and mental stimulation of an escape room into your own home.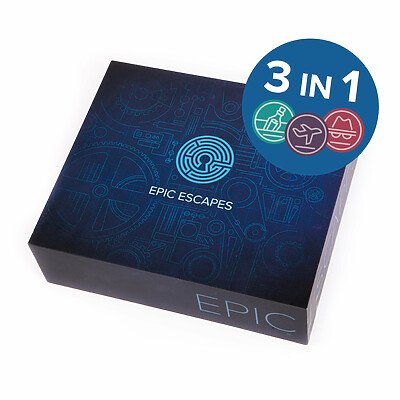 Escape-rooms-at-home can be thought of as an interactive board game, but with tons of added features. They're actually much more than a board game, though, and escape-rooms-at-home like those found in the Epic Escapes Starter Pack (pictured above) offer puzzles, challenges, special locks, boxes and immersive storylines to transport you and your family to somewhere new and totally unique.
Escape Room At Home For Kids
Bored with your standard board games? Need to reduce you and your kid's screen and gameplay time? We have the perfect answer…
The Epic Escapes Starter Pack is designed for family fun. Up to 6 players can play, any more might result in too many cooks spoiling the broth rather than many hands making light work!
There is no sensitive or violent content that is unsafe for kids (though adult supervision is always required).
How It Works
Our escape games are pretty innovative and they'll likely be different to anything you've played before.
You'll receive instructions, storylines and working props and gadgets that you'll need to set up to play.
The idea is to beat the game and escape in the quickest time possible.
Trust us, it's super exciting! But don't just trust us, check out some of our reviews too! 
What sets Epic Escapes apart from the other play at home games we have played, is that you're provided with actual lockable boxes and padlocks (along with a couple of other things that I won't spoil!) and therefore there is an added excitement for any enthusiast, and that is setting up the room itself, where all the padlocks have to be set to the correct codes and the puzzles aspects hidden in your room of choice! – Brit Of an Escape Room Habit Review
In the Starter Pack, you will find not one, or two, but three escape rooms with 3 different difficulty ratings.
It's always recommended you start with the easiest one!
A really well designed, high quality, at home product, with a clear story and flow. Brilliant for first time escape roomers as the puzzles were well structured and understandable. Likewise, experienced gamers would also find this a great starting point. – Kent Escape Room Reviews
Our escape room games are immersive and can really help you escape as you try and escape.
They are tense and can get the heart pounding a bit at times, but you'll always be able to control the environment.
If you want to take a time-out, then you're always at liberty to do so!
What other escape rooms let you stop for a tea and biscuit halfway through saving a plane from being hijacked?!
We played the game in a different room in the house, the lights were turned off, and I had soft white led lighting as well as a very loud countdown clock (found on Youtube!) to add tension and compliment the story. Doing it in a different room from the first time we played, meant different hiding places and a real different feel to the game. – Kent Escape Room Reviews
As we all know, these sorts of unique experiences have grown increasingly important during lockdown. Escape rooms have been proven to be beneficial for our mental health, and this can apply at home too.
They test and stimulate our mental agility, engage the senses and avert our gaze from phones and TVs.
In times of lock down, a game like this is a real solid substitute to get your escape room fix. The qualify of the product is strong, particularly in terms of design and hardware. The story is very different to others so gives this experience a very different feel to Epic Escapes first puzzle we played. All in all, a really good experience. – Kent Escape Room Reviews
Escape Rooms by Epic Escapes
The Epic Escapes Starter Pack provides an awesome starting point for anyone looking to try this awesome new form of home entertainment, and each game is totally reusable too.
But, we're working hard to come up with some epic expansions packs too, so new games are always on the horizon (much to the delight of some of our followers!)