Escape rooms – we probably all know what they are by now!
But go back even 10 years and you'd be hard-pressed to find too many others that had heard of escape rooms.
So when did escape rooms become popular?
Escape Rooms in the Past
The history of escape rooms is a little hazy, but it's generally agreed that escape room's historical origins lie in the haunted houses of Victorian Britain.
This set the scene for a type of attraction that involves a fantasy-based theme and the basic premise of entering a perilous room or building with the object to escape!
Halloween in the US also often involved homemade mazes and 'escape rooms' where trick-or-treaters could test their nerve – another form of the early escape room!
In 2003, True Dungeon in Indianapolis provided a fantasy-themed escape room based around the Dungeons and Dragons fantasy board game. This might have been the earliest commercial escape room.
Meanwhile, the escape room video game, Crimson Room, was made in 2004 by Japanese designer Toshimitsu Takagi.
The Myst series of games came shortly after.
These games had one thing in common – interact with your environment to locate clues and solve puzzles. 
Asia then pioneered the modern physical escape room when SCRAP entered the fray in the late 2000s. Real Escape Game then created a variety of different puzzles for escape rooms around the world.
So When Did Escape Rooms Become Popular?
Escape rooms became popular in the 2010s. After proliferating across Asia, escape rooms made their way to North America and then Hungary, Serbia, Australia, New Zealand, Russia and South America.
You can now find escape rooms on every continent. In some cities, there are tons of escape rooms all with their distinct storylines and themes.
According to The Guardian, there are now some 1,500 escape rooms in the UK alone. Escape rooms span so many themes from SciFi to horror, fantasy, movies and TV such as LOTR or Harry Potter and tons of other weird and outright whacky themes.
Redbull hosted the Escape Room World Championships in 2019 where teams from 23 countries attended in Shoreditch! The winners were Brainteaselava from Slovakia.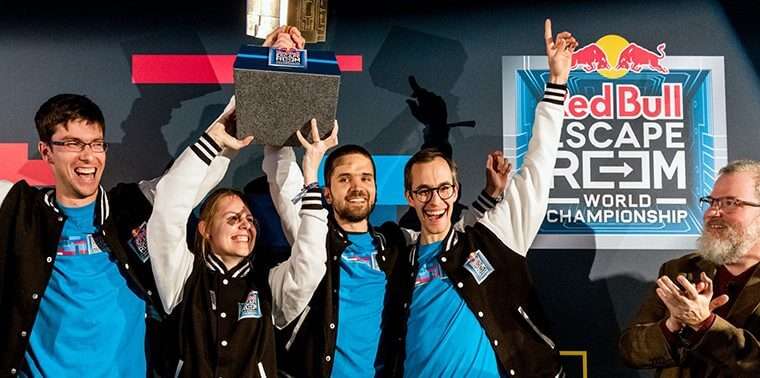 We're sure that these sorts of escape room tournaments would have only become more popular if it wasn't for lockdown under coronavirus.
With thousands of escape rooms spanning the world, a world championship tournament, numerous dedicated teams and individual enthusiasts, escape rooms are well and truly in the vogue, which is awesome!
Escape Rooms at Home
And now, there's yet another genre of escape room on the block – the escape-room-at-home.
The Epic Escapes Escape Room In A Box (3-in-1) provides the thrill and excitement of an escape room in a box. You can play anywhere – lockdown or no lockdown!
This is yet another way to enjoy the awesomeness of escape rooms!